Balmain hair extensions
As part of the Balmain Paris fashion label, Balmain Paris Hair Couture has over 40 years of heritage in combining hair essentials with the latest catwalk trends. The collections are inspired by backstage secrets and mirror all a woman needs to create the ultimate catwalk inspired look.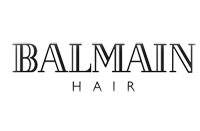 Double hair
The DoubleHair and DoubleHair Silk is a patented, reusable weft system made of the highest quality 100% Human or Silk Protein infused 100% Human Hair.
Each weft contains layers of hair which allow you to create instant volume and length with a minimum number of applications. To ensure invisible integration and comfortable wearing, the wefts are fastened under a layer of additional hair with either clips, rings.
• 100% Human Hair wefts
• Reusable application: 4-6 weeks
• Unique 6 months quality guarantee with Balmain Professional aftercare
Lengths available: 40 – 55 – 60cm.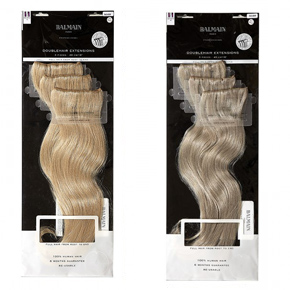 Tape
Easy Volume Tape & Silk Tape are reusable pre-taped additions made of the highest quality Silk Protein infused 100% Human Hair. The ultra-flat application ensures perfect hair distribution and comfortable wearing. The 2.8 cm wide tapes are easy to apply and provide an instant result. Perfect for volume and colour (high or lowlight) treatments.
• 100% Human Hair
• Super flat and easy application
• Reusable application : 2-4 weeks
• Unique 6 months quality guarantee with Balmain aftercare
Lengths available: 40 – 55cm
Easy volume (20pcs)
Silk tape (10pcs)